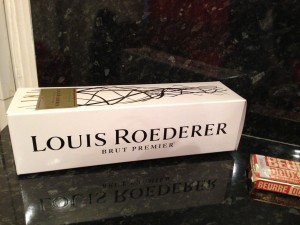 I felt as if,  I had slipped on an old favourite pair of jeans, when I returned to Paris today.
Orly Airport was a breeze and will now be my airport of choice when visiting Paris, if it is an option.
After a long bumpy flight, a smooth entry through Orly, my driver was waiting outside.  Instead of the usual people mover, from the past two years, Paris Furnished Apartments have upgraded their transport.
The pièce de résistance, was watching the Eiffel Tower and Sacre Coeur grow larger, as we glided through the traffic and short distance to the Marais, sitting in the back of a shiny, black, Mercedes.
Now that is what I call arriving in style!
Feeling a little worse for wear and unable to shake the feeling that the apartment was not a rocking boat but a stationary solid building,  I decided to head out.  My favourite Monoprix supermarket in Bastille had a display of Louis Roederer, slap, bang at the entrance of the store.  A bottle of the lovely champagne was the first item to rest in my trolley.
On route to the Orange telecoms store to buy a local sim card, I came across my old mate.  My favourite homeless man, looking better than ever, his out stretched arms in a big welcome, as I bounced down the street, shopping in tow. After a few ca va's and me, stumbling around trying to remember french words, to form into intelligible sentences, brought back a flood of memories and as always, I left him sitting on the street, calling apres apres – after after, as I continued on with a big smile on my face!
Feeling disappointed that my friend Bouba wouldn't be working tonight at my favourite bar Petit fer a Cheval, I peered through the window on my way to the boulangerie next door to buy a baguette and much to my surprise, I had my days mixed up and he was working.  What a wonderful surprise for both of us.  Warm hugs and a couple of glasses of wine, delayed the bread buying for an hour or two.   I skipped down the street sans umbrella but with a baguette tucked under my arm, feeling like a local, in my neighbourhood.
The lack of sleep over the past 24 hours, was taking it's toll, combined with the rocking feeling but I had joined,  a local Meet Up Group and as luck would have it,  they had organised a drinks and quiz night at a bar, 200m away from my apartment.
A friendly and welcoming group of people, ex-pats living in Paris for many years.  Delicious looking homemade brownies were handed around as they caught up with one another's news, ensuring I was included in the conversation.  Luckily for me, the quiz has been postponed.  I am not sure I would have been able to unscramble my brain enough for it to spark and then make it out through my mouth to answer a question.
Leaving the group, with a promise of a walk around Paris and well wishes, I walked around the corner to my apartment.   As I  strolled the streets of the Marias, a slight drizzle falling, the thought of sleeping in fresh linen bed, as opposed to a plane was just what I needed after a lovely first day in Paris.