abandon |əˈbandən|
verb [ trans. ]
1 give up completely (a course of action, a practice, or a way of thinking) : he had clearly abandoned all pretense of trying to succeed. See note at relinquish .
• discontinue (a scheduled event) before completion : against the background of perceived threats, the tour was abandoned.
2 cease to support or look after (someone); desert : her natural mother had abandoned her at an early age.
• leave (a place, typically a building) empty or uninhabited, without intending to return : derelict houses were abandoned.
• leave (something, typically a vehicle or a vessel) decisively, esp. as an act of survival : he abandoned his vehicle and tried to flee on foot.
• ( abandon someone/something to) condemn someone or something to (a specified fate) by ceasing to take an interest in or look after them : it was an attempt to persuade businesses not to abandon the area to inner-city deprivation.
3 ( abandon oneself to) allow onself to indulge in (a desire or impulse) : abandoning herself to moony fantasies.
The French word is similar – abadonner
As the day unravelled, quite a few things and people, were abandoned.
My first nights sleep in a real bed had me sleeping like a baby.  This does not mean I woke up in the middle of the night, crying, in need of a bottle of milk.  I slept all the way through until the alarm sent a shrill through my body and had me wondering where I was.
Before leaving for Paris, I spent a considerable amount of time mapping out a long 12km walk, when I peered out the window of my warm, cosy apartment, I was disappointed to see it was raining.  After an amount of procrastinating, I decided to solider on and weather the storm.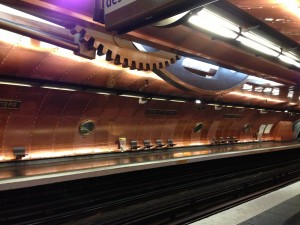 An interchange at the lovely metro station Arts & Metier gave me a quick photo opportunity along the way. to Credit Lyonnais bank.  I had read about the amazing domed glass ceiling.   Standing in the foyer, composing the shot, I was told in no uncertain terms; no photos. Damn, I missed the shot within a matter of one second.  It is a bank after all.  Absolutely gorgeous and majestic but no evidence, I'm afraid.
Next stop was the Bibliotheque Nationale, the National Library of Paris.  Currently they have an exhibition on the Rothschilds in Paris,which was small but interesting.  The library also houses the magnificent, oval reading room.  I wandered in, awestruck by the room, the silence was deafening until an attendant stopped me in my tracks.  Where is my card, he asks.  Not being a member meant I was promptly thrown out.  It reminded me of a line in a movie;  "I have been thrown out of better places than this".  Although I don't think I have.  Another magnificent domed ceiling and another lost photo opportunity.  You can see an image of the ceiling here and a pattern emerging.
By the time I stepped out onto the street, the rain was getting heavier.  Time to abandon plans and find a domed ceiling that require permission to photograph.  Galleries Lafayette, this of course has potential of being a dangerous option.  To enable me to photograph the domed ceiling meant entering the shopping mecca.  Six floors of goods screaming out to be bought.
If things don't go to plan in Paris, there is always shopping.
Swarovski crystal has obviously sponsored their Christmas tree this year and I could take as many photos as I wanted, so I did.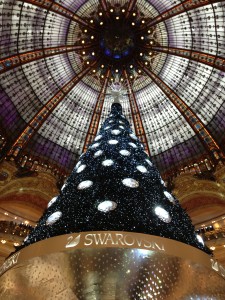 The 7th floor terrace offers views of Paris, but squelching across the artificial turf, in gusty, rainy weather meant more lost photo opportunities.  Sitting on the rooftop of Galleries Lafayette, defeated, freezing, sipping on a hot chocolate, there was only one thing to do … shop.
American Retro, which despite it's name is a french fashion label that I love had a soft grey cardigan that lept off the rack and begged me to buy it.  Disappointed, I told the shop assistant, although I loved it,  it was too expensive for me.  A moment later she returned and offered 40% off.  After a miserable morning of rain, I deserved a treat, at least they had the sense not to throw me out.
The Louis Vuitton sponsored Galleries Lafayette windows were sweet, with luggage I can only dream about.
Dior influenced the department store next door,  Printemps, displaying, as usual, a far better feast for the eyes.  Although I did notice, both department store's displays were not as lavish as years past.  All the same, locals and tourists, 6-8 deep lined up to catch a glimpse, taking photos or videos, while the children, standing on their own special ramp, squealed and laughed at the wonder of it all.
Tonight saw another abandoned moment, for some or maybe too many.
Still feeling a little  bit weary from the long flight in, I remembered I had a concert to attend tonight and wasn't feeling enthused, however I pondered, if at some point, I don't feel I am enjoying it, I can leave.
Only a few weeks ago, after a small amount of deliberation I purchased a ticket to see The Delano Orchestra at Theatre de la Ville Paris. A young folk/pop band with classical background who come from the French country town of Auvergne, famous for it's whipped potato and cheese. The reason I was interested in The Delano Orchestra was for it's mash up of rock and classical.
Theatre de la Ville Paris is opposite the opulent Theatre Chatelet, a pigeon pair, situated in Place du Chatelet and instigated by Baron Hausmann, the man responsible for redesigning Paris.  Both theatres built around the mid 1800's, both with the same facade, however the Theatre de la Ville is a little worse for wear from the inside.
Fine art and gold trimmings, it does not have, unlike it's twin across the square.  Located a short distance from my apartment, I scurried away and arrived, with just  minutes to spare, only to discover, I had a fold down chair near the aisle.  This is not uncommon, and I have witnessed this at both The Chatelet and the Grand Palais Opera but never had to experience it before, for myself.  I felt I was sitting in a dickie seat in an automobile from a bygone era. Luckily, I heard it snap back in place as I stood up to take off my coat.  Had I sat back down without realising this, I would have found myself lying flat on my back, admiring the ceiling, (where there is nothing to admire).
The lights dimmed an announcement, which I barely understood, except for the part that taking photos were prohibited – another lost photo opportunity.
Without further ado, the lights dimmed a collection of musicians appeared on the stage behind a gauze curtain and a spot light that seemed to fumble, swayed in and out.  I turned to the light source, wondering if the lighting guy knew what he was doing and discovered, directly behind me was a camera, very close to the back of my head, to record the nights performance.  This made me nervous that if I moved, I would be forever captured in their youtube video clip across the world.  I sat still, waiting for the lighting guy to position the light.
The light swayed and moved until eventually, I realised, this was part of the performance.  Visions of seascapes, rustling pieces of fabric were projected onto the screen and slow orchestral music, slowly emerged.  Now I was starting to understand. Relax, I told myself.
When the first piece of music finished, no one, myself included, knew when to clap.  A sole applauder led the way, we joined in.  We waited as they prepared for the second piece, figures behind the gauze screen, shifting instruments, almost unaware that we could see them. Not disimilar to folk who feel safe, at home,  behind their lace curtains, not realising, that when night falls and they turn the lights on, that the outside world can peer in, we waited in silence as they prepared.
Next, we waited for the third piece, as they stumbled behind the gauze curtain, one musician or stage hand slightly tripping, muffled giggles from the audience, the performers,  still seemingly unaware that we could see them.  The audience waited patiently but starting to get impatient.  I reminded myself, I could leave, but leaving would have meant standing up, my dickie seat banging, snap shut, walking down the centre isle for all and sundry to see.  Relax, I reminded myself, I am in Paris, I don't have to wake up early for work tomorrow, I have no pressing schedule afterwards. Relax and enjoy.
As we watched two dancers, I couldn't help feeling distracted by the main singer fiddling with controls to re-play his voice-over, and then lie down, on the stage behind the equipment, my thoughts started to wander.
Finally the gauze was lifted, the music became more upbeat but we were still unsure when to clap.  A few of the audience left.
Another song, an unsure ending, more confusion about clapping.   More people left. The night progressed and I moved from side to side,  my bottom was starting to ache on the dickie seat.
More people left.
During the next song, and in the midst of planning my escape, more people left.  I felt comforted that the band could not see the audience slowly disappearing but as I watched the musicians eyes slowly turn to the departing crowd, with the music appearing to become  more melancholic, I felt compelled to stay.  I couldn't abandon them now.
After the next song, which hinted on suicide, I counted eight people pass me and leave, also the people sitting beside me.  I took the opportunity of taking their place, now I could sit in a proper seat, much to the relief of my aching bottom.
After a few more songs, finally came the finale.  12-15 musicians, belted out a fantastic piece of mash up classical and hard rock, it was fantastic, if only most of the concert could have been like this.  The crowd went wild, pleaded for an encore but the band didn't seem to know what to do.  No encore.
Perhaps they had ran out of music, perhaps disheartened by the people who left, or perhaps they are young and talented and haven't found their way yet.  If any, some, or all of my assumptions are remotely accurate , the important thing was, the last song made the experience all worth while.
Leaving the theatre, feeling quite upbeat, a smile of joy and confusion, I hoped that they don't abandon their project and stick to it. Collectively they have amazing talent and a unique approach.  Maybe having  'orchestra' in their name confused some people.
In need of some good food, I had a late dinner at Petit fer a Cheval and pleaded with my friend Bouba, that I must tell this story to him in English, there was no way I could find the French words to explain what I had experienced.
I may have abandoned my plans, I may have missed some photo opportunities, but as I sat sipping on a kir and white wine, under the beautiful stained glass domed ceiling of Printemps department store, my shopping piled up beside me, and later after the concert relayed my stories to my friend, I took a deep breath and thought to myself;  I am in Paris, I have a whole month to re-visit my walk, perhaps sneak into Credit Lyonnais and get that missed photo opportunity of the glass ceiling,  (a little quicker before getting caught) and maybe I will become a library member.
It seems whatever experience I have in Paris, whether things go to plan or are abandoned, I never feel disappointed.